Robyn Carr is the New York Times bestselling author of nearly 50 novels, including the coming-soon-to-Netflix series, Virgin River, opens a new window, and the bestselling Sullivan's Crossing, opens a new window series, set in the Colorado Rockies. Proud grandmother, resident of Las Vegas and recipient of the Nora Roberts Lifetime Achievement Award, Robyn headlines our upcoming author event, Romance in the Rockies, opens a new window, January 25, 4 – 9 P.M. at the Arvada Center for Arts and Humanities.
To gear up for the event, we chatted with Robyn about reading, writing and living a life of romance:
You've mentioned before how you came to the romance genre first as a reader, saying that when you were pregnant, "a neighbor brought me ten paperbacks a week to read, and I was hooked!" Do you remember what any of those books were?
Actually, I do! It was so long ago…we didn't really have as much available, so I started my romance reading with books like Katherine, opens a new window, The King's Grey Mare, books by Kathleen Woodiwiss, opens a new window and Rosemary Rogers, opens a new window – big, fat, sexy, powerful historical romances! I read them and reread them until the pages fell out.
Is romance still your favorite genre to read? What are you reading now?
Right now, I'm reading a girlfriend's book – Kristin Higgins' Life and Other Inconveniences, opens a new window.
Can you tell us more about this juxtaposition of romance and women's fiction? What do these genres mean to you?
Everybody has their own definition. Mine is that women's fiction deals with women's issues. And romance deals with romance; boy gets girl. In romance, you're trying to figure out who's gonna end up together and how and how remarkable is their relationship. In women's fiction, you want to learn more about yourself. The characters deal with real women's issues. And women's issues are probably the same as men's issues, things like parenting, children, aging parents, conflict with friends, family, the workplace. Women just talk about them more.
What is your process for writing these stories and where do you find your inspiration?
My process is that I'm at the computer all day. You know, there's a lot of business to this business! I end up getting interrupted for a Q & A, answering emails, answering fan letters or doing busy work that's connected to the writing.
I usually get inspired by something I've read or seen. Anybody's story can be a really interesting story, so I pay attention and listen when they talk to see if it will have a place in my future. And often it does. The other thing about inspiration is nothing can inspire you like a big stack of bills!
As for the uninspired and frustrated, the antidote is gratitude. It works like a charm.
Let's talk about Sullivan's Crossing. What lead you to set this series in Colorado? How did this story come about?
I wrote a book set in Colorado maybe 25 – 30 years ago, called Mind Tryst., opens a new window It was the only thriller I'd ever written. At that time, I was visiting friends in Grand Junction and the surrounding area, and the remoteness of it inspired me. There were a lot of little towns buried in the valley and really small little enclaves of people. I thought they were great! So, I wrote this thriller, then years later Sullivan's Crossing.
Your stories often have new beginnings and fresh starts in them. What makes Colorado such a good setting for a new beginning?
Colorado is the dream. Back when I was young, Colorado and California were where you went to make it, to be with nature and to live a full life on the land. It's a dreamscape. And people want to be a part of it, part of the mountains and the valleys and the lushness of the land. It's just so beautiful there! All those aspens could inspire anybody!
We have a few things to look forward to in 2020 from you. Can you tell us more about your Virgin River series going to Netflix?
Well, I've tried to stay uninvolved. I don't make movies; I make books. But what I've seen them do is magnificent! The Netflix series won't be identical to the books. It simply can't be. It's a different medium. It will have to be abbreviated. I had pages and pages to tell the story. Think of it as another chapter or one more book in the series, a new experience with your favorite characters. What I have seen so far is fantastic!
On January 7, The Country Guesthouse, opens a new window, the most recent novel in your Sullivan's Crossing series, hits shelves. What can readers expect from this latest installment?
Hannah's best friend died and left her a child, a six-year old, who has a mild case of cerebral palsy. He's a bright, smart, beautiful little boy. The two of them go to an Airbnb in Colorado on a lake to bond, get to know each other and recover from the death of his mother and her best friend. The man who owns it is a photographer who travels the world and takes many pictures. His name is Owen. He has some baggage – he's lost a son -- so the chemistry between the three of them is amazing. And it all leads, of course, to a happily ever after!
We're so excited to chat with you more on January 25 during Romance in the Rockies, but we're curious, what does an evening of indulgence look like to you?
Indulgence for me isn't usually very fancy. In fact, if you saw it, you might think I'm just an old country girl. Indulgence for me is an old fireplace, a clear sky, comfortable slippers, good jeans. If you have a pair of good jeans, you're set for life. I don't have much of a sweet tooth, but I like wine…and a book. I'm never more than 10 paces from a book. I indulge everyday!
---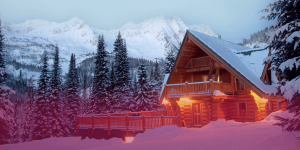 An evening of indulgence, Romance in the Rockies, features wine, chocolate, camaraderie and of course, all things romance. On January 25, 4 – 9 p.m. at the Arvada Center for Arts and Humanities, enjoy more intimate conversations like this with bestselling authors Robyn Carr, Jen Turano, Sara Richardson, Aidy Award, Jennie Marts and Courtney Milan. 
Tickets are available starting December 26 at jeffcolibrary.org, opens a new window. Until then, catch up on all things romance with books by our featured authors, opens a new window, read-alikes and even a few of Robyn's recommended reads, opens a new window.