The Culture Pass is your ticket to participating metro-area cultural institutions. Jefferson County Public Library purchases memberships that can be used free of charge by any library cardholder.
How It Works
Use your library card to reserve passes up to 30 days in advance.
Limits: one pass/institution/library card at one time; two passes/library card/30-day period.
A printout of your confirmation serves as your entry ticket. Passes are good for the date printed on your confirmation.
Note special instructions for Colorado Parks Pass.
To cancel or change a reservation, please call 303-235-5275.

Participating partners:
Butterfly Pavilion
There's so much more to see inside....If it creeps, crawls, slithers, flies, wiggles or squirms, chances are you'll find it here. Come for the butterflies. Then stay for the spiders, scorpions, millipedes, centipedes, horseshoe crabs, sea stars, and walking sticks. Open seven days a week 9:00 a.m. to 5:00 p.m. with the last entrance at 4:15 p.m. The pass allows 2 visitors to enter at no cost. (Not valid for workshops, classes, field trips, birthday parties, or public events such as Living Lights.) Reserve your pass.
---
Colorado Parks Pass
The Colorado Department of Education and Colorado Parks and Wildlife teamed up to provide residents an opportunity to explore a state park before purchasing a park pass. Park passes come with an activity backpack. Reserve the pass for the day you want it; pick it up between Thursday and Monday; return it on Tuesday. Passes must be checked out and returned at the same library location. Passes cannot be returned in the book drop. A $5 a day (up to $25) late fee applies to passes returned after Tuesday. The pass allows a carload to enter any of Colorado's 42 state parks at no cost. Reserve your pass. 
---
Denver Firefighters Museum
Housed in Historic Station No. 1, the Museum tells the story of the Denver Fire Department. The self-guided tour weaves the city's past with the history of firefighting in creative displays and hands-on activities that are entertaining and educational for visitors of all ages. Be sure to visit the Museum's gift shop for unique one-of-a-kind items! The pass allows 4 visitors to enter at no cost. Reserve your pass.
---
Denver Museum of Miniatures, Dolls & Toys
Housed in the historic Pearce McAlister Cottage, the Denver Museum of Miniatures, Dolls and Toys offers visitors a unique perspective on history, art, culture and childhood. Permanent and temporary exhibits at the Museum include Japanese dolls; fully furnished miniature houses; miniature trains, planes and cars; giant teddy bears; a miniature circus; antique dolls; Southwest homes; artisan miniatures and much more. The pass allows 2 visitors to enter at no cost. The pass is valid for regular admission only and cannot be used for teas, workshops or special events. Reserve your pass.
---
Denver Museum of Nature & Science
Come explore world-class wildlife displays that take you to Earth's most exotic places, huge dinosaurs that transport you back in time, interactive space exhibits that let your mind wonder, and personalized health science fun that puts your body to the test. This pass includes free admission for 7 visitors age 3 and up (kids under 3 are always free), as well as discounts to IMAX, special ticketed events, the café, and the gift shop. Reserve your pass.
---
Denver Trolley
Join the Denver Tramway Heritage Society for an enjoyable ride back in time before the Interstate and jet planes, back to the time when Grandma was a girl being courted by Grandpa as they took a ride on a Breezer! As the Trolley is an open-air "Breezer", weather is a factor and may not operate should the weather be very unfavorable. The trolley operates Thursday through Monday between Memorial Day and Labor Day. Go to denvertrolley.org for schedule details. The pass allows 2 visitors to ride at no cost. Reserve your pass.
---
Dinosaur Ridge
Dinosaur Ridge is one of the world's most famous dinosaur fossil localities. The Friends of Dinosaur Ridge offers a family-friendly Visitor Center and trail for groups of all ages. The exhibit hall Trek Through Time is designed as a walk through different environments at different prehistoric dates and five murals were included as a major part of the interpretation of Colorado's ancient environments. The Dinosaur Ridge Trail has hundreds of dinosaur tracks, a quarry of dinosaur bones, and interesting geologic features. The pass allows 4 people admission to the Trek Through Time Exhibit Hall and a 40-minute guided tour of Dinosaur Ridge on the regularly scheduled hourly shuttle bus (half hourly in the summer). The tours are on a first come, first served basis. Reserve your pass.
---
Foothills Art Center
Located in historic downtown Golden at the corner of 15th Street and Washington Avenue, Foothills Art Center (FAC) leads and inspires the community through art, education, and cultural excellence. Foothills Art Center is committed to delivering engaging exhibitions and diverse educational programs for adults and children. Open Mondays through Saturdays 10:00 a.m. – 5:00 p.m. and Sundays 12:00 – 5:00 p.m. The pass allows 6 visitors to enter at no cost. Reserve your pass.
---
Golden History Museums
Golden History Museums connect residents and visitors to the history of Golden, Colorado by being the leading source for local history. This unique pass provides access to our three close-to-downtown locations in Golden. The Golden History Center, next door to the library, shows off changing exhibits featuring Coors Pottery, a variety of musical instruments, historic photographs, and much more from a collection of more than 15,000 objects. Just across the footbridge is the entrance to Clear Creek History Park, where an outdoor walking experience immerses visitors in the look and feel of a late 1800s mountain ranch, complete with gardens, a working blacksmith shop, schoolhouse, and chicken coop. Finally, one short block away is the Astor House Museum, an1800s boarding house and hotel that welcomes modern guests to experience the rooms just as they might have been 100 years ago. The pass allows 6 visitors to enter at no cost. Reserve your pass.
---
History Colorado Center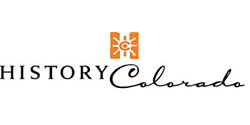 The History Colorado Center's hands-on and high-tech exhibits take you back in time, connecting what WAS to what's NEXT. They're unexpected, thought-provoking, and relevant. And most of all, fun! Join us for an inspirational journey that will ignite your imagination and touch your heart. Byers-Evans House is a distinctive house museum. Enter one of Denver's great historic homes, built in 1883 by Rocky Mountain News publisher Williams Byers and sold in 1889 to the family of William Gray Evans, an officer of the Denver Tramway Company. This pass allows up to 4 visitors to enter both History Colorado Center and Byers-Evans House at no cost. Reserve your pass.
---
MCA Denver
Museum of Contemporary Art Denver is a museum dedicated solely to the presentation of contemporary art. Located in the LoDo section of Denver, MCA Denver has five distinct galleries, three spaces for education, multiple sites for special projects/commissioned works and one live art/lecture hall as well as a rooftop cafe and a gift shop. The contemporary art exhibits rotate into and out of the museum on a 3-6 month basis. You'll never see the same thing twice! The pass allows 2 adults and 2 children per visit to enter at no cost. Reserve your pass.
---
Molly Brown House
Historic Denver's Molly Brown House Museum tells the story of Margaret "Molly" Brown's activism, philanthropy and passion through educational programs, exhibits and stewardship. It is among the most visited historic sites in the state of Colorado, and one of only a handful of sites nationally dedicated to the interpretation of a woman's story. Not valid on special events. The pass allows 4 visitors to enter at no cost for a house tour. Reserve your pass.
---
Museo de las Americas
Located in the heart of the Santa Fe Arts District, Museo de las Americas is the premier Latin American art museum in the Rocky Mountain region. Museo is dedicated to educating our community through collecting, preserving, and exhibiting Latino art and culture. Uniting ancient and contemporary works to create an unique experience for vistors. Museo has served the Denver community for 27 years through award-winning exhibitions, arts education programming, and special events. The Museum is opened from Tuesday through Saturday, 12- 5 pm. The pass provides free admission for two adults and children in household under 18 years of age. Reserve your pass.
Rocky Mountain Quilt Museum
See the finest examples of the quilter's art, from antique bedcovers to the latest contemporary work. RMQM exhibits change four times a year, so come back often! Go to www.rmqm.org for the latest exhibit schedule and information about classes, programs, and events. Be sure to visit the museum shop for unique pieces by local artists and gifts to nurture the creative spirit. The pass allows 4 visitors to enter at no cost. Reserve your pass.
Thank you to the Jefferson County Library Foundation for helping us fund this program.