Jefferson County Public Library (JCPL) is governed by Colorado Library Law (Colorado Revised Statutes, Title 24, Article 90, Section 108) and organized as a component unit of Jefferson County Government.
The Library is supported primarily through property taxes collected by the County. In 1986, Jefferson County voters approved a dedicated library mill levy of up to 3.5 mills. In 2015, they voted to increase the Library's mill levy to a maximum of 4.5 mills, thereby securing the future of the Library for years to come. Annually, the Library Board of Trustees develops the budget and mill levy required to deliver Library services and an elected Board of County Commissioners appropriates the Library's budget and sets the Library tax levy to be collected.
JCPL Trustees are appointed by the Jefferson County Board of County Commissioners. The seven-member Library Board of Trustees uses the Carver and Charney Policy Governance Model as the framework to guide its decision-making. Under policy governance, the Library Board of Trustees sets Library policy, defines long-term expectations for Library service, has fiscal and legal responsibility for JCPL, and hires and provides direction to the executive director.
On behalf of Jefferson County residents, this governing Board:
Has the authority to make policy. The Library Board uses the Carver and Charney Policy Governance Model as the framework to guide its decision-making.
Has fiscal and legal responsibility for control and management of the Library to:

Develop and approve an annual operating budget.
Employ the Executive Director and provide direction to her/him for the organizational goals to be achieved.
Enter into contracts and other agreements for the management of the Library.
Hold, acquire and own property, and accept and determine use of gifts (monetary and otherwise) to the Library.
Trustees are required to:
Reside in Jefferson County.
Determine and recommend library governing policies.
Become familiar with state and federal laws governing libraries, public meetings, availability of public records and First Amendment rights.
Prepare for, attend and participate in all Board meetings/study sessions, retreats, conferences and workshops.
Secure adequate funding and practice responsible fiscal management of the public money.
Plan for the future of the Library.
Promote library services and advocate for the Library in the community.
Serve without pay. Expenses related to participation in library activities may be reimbursed.
Meet the Board

Kim Johnson, Chair
Term: September 30, 2022 through September 30, 2025
Trustee.Johnson@jeffcolibrary.org
Kim is the Director of Finance & Operations for St. Elizabeth's School, an intentionally inclusive, independent K - 8 school in Denver, CO. Her professional background also includes more than a decade as a commercial property manager with several firms in Los Angeles and Orange Counties in California. She entered real estate management following a career in retail management, providing for her entrepreneurial outlook in evaluating issues.
Kim is an active community volunteer whose work reflects over 15 years of volunteering with Jefferson County School District, classrooms, local PTA units, school booster groups, and family support groups. She has served on the JCPL Board of Trustees since 2016.
Kim received her bachelor's degree in political science with a cooperative bachelor's degree in law and society from the University of California at Riverside. She has been a Jefferson County, Colorado resident since 2003 and resides in Arvada with her husband and two children.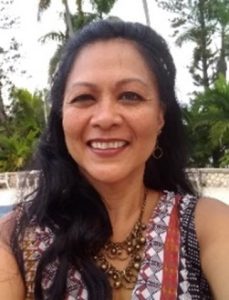 Emelda Walker, Vice Chair
Term: September 20, 2022 through September 30, 2024
Trustee.walker@jeffcolibrary.org, opens a new window
Emelda (Bing) Walker is a Grants Program Officer at the Colorado Department of Public Health and Environment. She brings several decades' worth of experience in program evaluation and data-driven decision making and has extensive knowledge of the Jefferson County area to JCPL, with previous experience including work for Jefferson County Public Health (JCPH) as an Emergency Response Planner at the height of the COVID-19 pandemic and serving as a Commissioner for the City of Lakewood Commission on Cultural Diversity and Human Relations. In her time at JCPH, Bing also coordinated Communities That Care, an organization that JCPL regularly collaborates with whose vision is to have a thriving, healthy and safe community for our youth.
Bing received her Ph.D. in Philosophy, Higher Education/Higher Education Administration from the University of Denver. She also holds a Master's Degree in Vocational Rehabilitation Counseling and a Bachelor's Degree in Secondary Education and Teaching, conferred by the University of Northern Colorado and Western Oregon University, respectively.
Bing has been a regular patron of JCPL for nearly three decades, using the library's resources to achieve her personal and professional goals, receive her degrees and connect with her Jefferson County community at countless events. As a library trustee, Bing hopes to impact positive change on Diversity, Equity and Inclusion efforts across JCPL, and to foster a collaborative and nurturing environment for all library patrons.

Pam Anderson
Term: through September 30, 2023
Trustee.anderson@jeffcolibrary.org
Pam is owner of Consilium Colorado, LLC., a consulting firm that specializes in public/private leadership, program management specializing in elections administration, and political affairs. Pam Anderson currently serves as the Executive Director of the Colorado County Clerks Association, a nonprofit professional association which represents the 64 elected and appointed county Clerk and Recorders in the state of Colorado. The Clerk & Recorders are responsible for several functions including administration of coordinated, state and federal elections, recording of all land records and marriage licensing, motor vehicle titling and registration, and Clerk to the Board of County Commissioners. She has also successfully contracted with diverse organizations at the national, county and municipal level to evaluate and improve civic engagement, elections or services to citizens.
Pam was elected the Jefferson County Clerk and Recorder in 2006, and reelected in 2010. Previously she served as the elected City Clerk for the City of Wheat Ridge. Jefferson County, Colorado is located west of Denver with approximately 422,000 registered voters and is politically diverse She has a B.A. in History, Master's Degree in Public Administration and is a CERA-certified elections professional.
Pam is on the Board of the Center for Technology and Civic Life and the Center for Election Innovation and Research, and has served as a member of the Dean's Advisory Board for the School of Public Affairs at the University of Colorado, Denver and an advisory member of the Pew Center Performance Index of Elections Advisory group. She is past-President of the Colorado County Clerks Association.
Pam is married to Jay Anderson and they have two children; Sylas, is a sophomore at the University of San Diego, and Kate who is in her senior year at Wheat Ridge High School. Pam enjoys sports of all sorts, travel, loves the outdoors, cooking and reading mysteries and thrillers in her downtime.
, Secretary Jill Fellman
Term: September 30, 2022 through September 30, 2025
Trustee.Fellman@jeffcolibrary.org
Jill Fellman has always been involved in the Jefferson County school system. She grew up in Lakewood and attended Jefferson County schools. Professionally, she was an educator in the Jefferson County public schools for over 30 years.
Jill's extensive career began as a secondary school math teacher. For 18 years she worked to help her students discover themselves as a classroom teacher. From there she became an Assessment Resource Specialist, interpreting standardized test data to better the school system and improve student achievement results, before working as the Math Curriculum Coordinator for the district. Subsequently, Jill became a Director of Curriculum and Instruction for Jeffco Schools. In addition to supporting curriculum development in several course areas, Jill oversaw the Secondary Instructional Coaches — striving to ensure all students have meaningful educational experiences. After retiring from the school district, Jill served as a site professor for University of Colorado at Denver's Teacher Preparation program and a supervisor of student teachers for Colorado State University.
After retiring from her career as an educator, Jill served as an elected member of the Jefferson County School Board of Education from November 2011 to November 2015. In her Board service she served two years as Board's secretary, two years as treasurer.  Shehas also served on the Colorado Association of School Boards (CASB), advocating public education issues with legislators, and serving on CASB's Executive Committee and Federal Relations Network. She also attended the Colorado School Finance Project meetings, and served on the Jefferson County Business Education Alliance.
Reading has always been a passion — Jill is currently in three book clubs!  She is married to her wonderful husband Ken, they have two grown children, and three precious grandchildren.

Jeanne Lomba
Term: through September 28, 2024
Trustee.Lomba@jeffcolibrary.org
Jeanne Lomba has been involved with the Jefferson County Library System for many years — as a volunteer at Columbine Library, a member of the Library Speakers Bureau, a Human Resources Generalist in the Library's Employee Relations Department and an avid patron.
A native of Washington D.C., Jeanne holds a Bachelor's Degree in (Adult) Education from Old Dominion University in Norfolk Virginia, and has used her knack for training/teaching in her career as a Human Resources professional and technical trainer in many industries, working for such local companies as Interactive Software, JD Edwards/Oracle, Rose Medical Center, Opportunity in Living, TestAmerica, South Metro Fire & Rescue and Natural Grocers.
Jeanne has lived in Jefferson County since 1982 and has been married for 30 years.  She is an avid gamer — playing bridge, scrabble, cribbage and mahjongg regularly — and also enjoys crafting, cooking, theatre arts and reading.
Her love of volunteering originated years ago when she was active in the Colorado Human Resources Association, as well as elementary and high school PTAs, serving as an office holder throughout her son's education in Jeffco.  He is now a Jeffco teacher, and a positive influence and role model for her current career.
Jeanne is a substitute teacher in Jefferson and Denver counties, where she takes weekly impromptu and scheduled teaching positions for grades 3 - 12.  She also teaches Faith Formation at Light of the World Church and participates in their Vacation Bible Camp.

Charles Naumer
Term: through September 30, 2023
Trustee.Naumer@jeffcolibrary.org
Charles is the CEO of CiviCore, a software company serving nonprofit and public sector organizations. His professional and academic work focus on the development of information systems that build capacity within the social sector. His work utilizes information to promote sense making and bridge the digital divide.
Charles' community commitments include being appointed by Governor Hickenlooper to serve on the Colorado Disability Funding Committee. Currently, he is chairing the CDFC's subcommittee on License Plate Auctioning. He is beginning his fourth year as a member of Jefferson County Public Schools Leadership Committee. Charles serves on the Bergens Leadership Council and also volunteers for Anchor Center for Blind Children.
Charles holds a Bachelor's degree from Pomona College, Master's degree from Harvard University in Public Policy, and a Ph.D. in Information Science from the University of Washington.
Charles is a Colorado native and lives in Evergreen with his wife and two young daughters.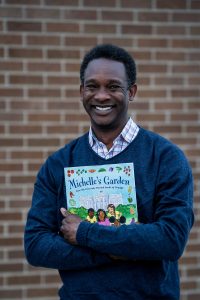 Charles Jones
Term: September 30, 2022 through September 30, 2025
Trustee.Jones@jeffcolibrary.org, opens a new window
Charles Jones is a special education professional for Adams 12 Five Star Schools, where he creates and monitors policies and practices that promote effective organizational behavior. His career spans more than 20 years in public education, giving him unique insight into the current needs, wants and expectations of library patrons. Prior to joining the Adams 12 school district, Charles served as a special education teacher and dean of student services for Denver Public Schools.
Charles is an active community member and volunteer. He serves on his community's homeowners association board, has been a member of Arvada Gardeners and currently serves on the Arvada Festival Commission.
Charles earned his Bachelor of Arts degree from the University of Texas and a Master of Arts degree in educational leadership from Adams State University. He has lived in Jefferson County, Colorado, since 2013 and resides in Arvada.