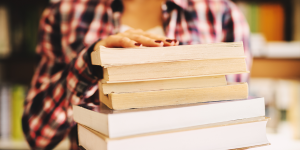 We get it – there's nothing like a good book or a great movie to capture your attention and sweep you away. We also know it can sometimes take longer than you think to finish it. That's why we're making improvements to give you more time to enjoy the items you check out!
Introducing automatic renewals!
Let us remember for you! Now, we'll automatically renew your eligible, opens a new window items, so you don't have to worry about it!
Here's what you need to know!
Your Courtesy Notice email notifies you of due dates for automatically renewed items as well as those ineligible for auto-renew.
Prefer to renew your own stuff? You can still renew at the Library, online at jeffcolibrary.org or over the phone at 303.235.5275.
We've also increased the number of times an eligible item can be renewed from three times to six!
How does it work?
Two days before an item is due the system automatically checks to see if it's eligible for renewal. Eligible items are renewed for another loan period starting from the original due date. The due date for ineligible items stays the same.
What doesn't renew?
Items ineligible for auto-renewal include:
Items with holds
Lucky Day items
Magazines
Hotspots
Digital items like downloadable audiobooks, e-books and streaming media (although many of our vendors do allow one renewal, but it must be initiated by you).
Interlibrary loans (will only renew with the approval from the lending library, and you must initiate that request). 
Prospector loans (automatically renew only one time). 
How will I know if an item is auto-renewed?
We'll email you a Courtesy Notice that shows what you have checked out and when it's due. You can also check your online account at jeffcolibrary.org.
Will I lose time with an item if an item renews two days before the due date?
No. The renewal calculates the due date from the original checkout date. The renewed loan period is the same as the original checkout period. 
We hope automatic renewals make it easier for you to enjoy your items without the hassle of remembering to renew items when you need more time. If you have additional questions, please visit our Frequently Asked Questions, opens a new window page or chat with a member of our staff.