These interactive e-books are perfect for little learners! Making learning leap from the page...or screen, explore topics like animals, science, language arts and more!
Reach your goal while you explore all things animal! These interactive e-books for grades K - 5 feature local animals to sea friends!
Explore the sciences, including earth science, energy, coding, space and more! These interactive e-books include resources for grades 2 - 8.
Kids discover the joy of reading with this online collection of animated talking picture books that teach in a format young readers love.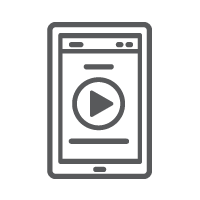 Rosen Interactive E-Books
Rosen Carousel
Explore all things animal with this interactive e-bookshelf for grades K - 5! From local animals to sea friends, there's so much to learn!
Explore Colorado with these interactive e-books from the Spotlight on Colorado series. Ideal for grades 3 - 6.
Learn to code! Learn essential coding terms and concepts, including graphical user interface (GUI) and robotics. Ideal for grades 3 - 8.
BookFlix
Build skills, confidence and curiosity with these animated storybook classics paired with related nonfiction e-books.
BookFlix brings animated e-books to life! Before you start exploring, get to know this fun resource with help from Niche Academy.
Tumblebooks Carousel
An online collection of animated talking picture books and chapter books teaching kids the joy of reading in a format they'll love.
Find out how to access children's books, videos and games using any web-enabled device with TumbleBooks.
Read, watch and interact all in one app!
An interactive storybook app for children ages 4 - 8, iVox brings favorite stories to life with three-dimensional characters and scenes that children can explore.
Check out JCPL's kid-friendly tech! Kids build confidence and master early reading skills with interactive games, challenges and storybooks.
November celebrates Native American Heritage. Use these interactive e-books to learn about Native American histories, cultures, and customs.
Need help with e-books, library resources or research? Arrange a virtual appointment with a librarian to find the answers you need.