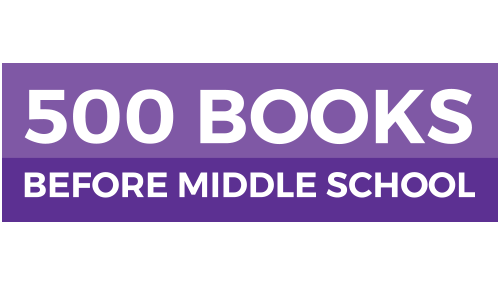 500 Books Before Middle School
Always be learning! Inspire a deep and lifelong love of reading with JCPL's 500 Books Before Middle School, a literacy program for elementary-age students. Be ready for all middle school has to offer by taking up the challenge!
From kindergarten through fifth grade, kids read 500 books of their choice to get comfortable with independent reading. Track progress and earn prizes throughout!
To support this program, contact the Jefferson County Library Foundation, opens a new window.
Get Started with 500 Books
The challenge is open to all children between the start of kindergarten and the end of fifth grade!
Read for Prizes
The journey to 500 is as fun as it is easy! Earn a cool prize when you register and more when you hit the halfway and finisher marks!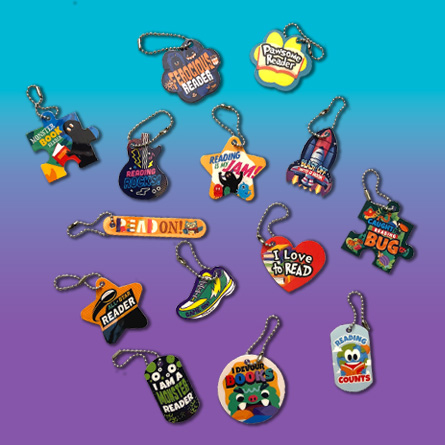 Registration Prize
Sign up today and get a backpack brag tag!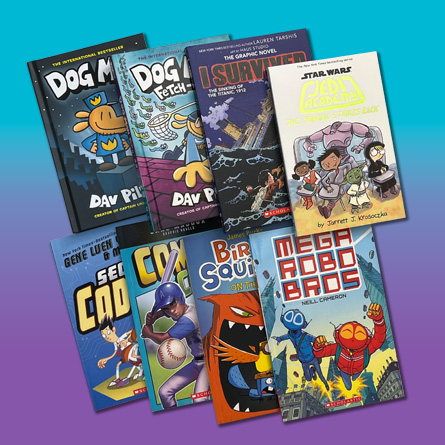 Midway Prize
Read 250 books and earn a free book to keep going for 500!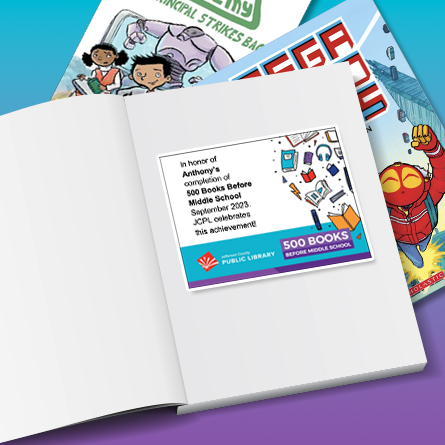 Finisher Prize
Read 500 books, and you'll get to pick another book to own and select a dedicated bookplate that will encourage other kids to read! And don't worry, 500 is just the beginning! Keep reading and logging to win more prizes!

Track Your Reading
Logging your 500 Books Before Middle School is a cinch!
Paper Tracking
Mark off the books you read when you pick up your paper tracker at any JCPL location or download and print your tracker, opens a new window from home.
Online Tracking
Or register online through Beanstack! You can either enter the number of books you've already read or start keeping track of all the great titles you're reading.
Events for School-Age Readers
These special programs at JCPL are perfect for getting kids excited about books, reading and all things learning.
One Book at a Time
Everything counts! Kids can re-read books, have books read to them by caregivers and teachers and listen to audiobooks! Looking for a place to start? Let these specially curated lists get you going!
500 Books Carousel
Welcome to our September list of recommended reads to help you tackle our new program at JCPL! Register, read and win!
With so many new and excellent books to read, it's easy to overlook classic titles. That's why we created this list of older gems!
A new program like 500 Books Before Middle School may inspire you to try a new series. Might as well start with Book 1!
Explore Staff Picks
These staff lists will help you discover great new titles while you read 500 Books Before Middle School.
Staff Picks Carousel
International Rabbit Day is celebrated on the last Saturday of September to promote the care and protection of domestic and wild rabbits.
This collection highlights historical events from traditionally marginalized perspectives to provide a more accurate, well-rounded view.
Fall in Colorado is just about perfect: colorful trees, harvests, outdoor adventures and indoor snuggle moments with these great books.
FAQs
This nationwide program supports your and your child's quest for reading! Reading (at least) 500 books before reaching middle school fosters curiosity, supports school readiness and achievement and encourages voice and choice.

Yes! In the app store on your device, search for and install the "Beanstack" app. If you have already registered for 500 Books Before Middle School on a computer, just sign in and start logging. Or select Sign Up.

When you are ready to begin logging, tap the plus sign, then select a Reader or more than one Reader. You can select Scan Title ISBN to do just that, or you can Manually Enter Title to log each book. Your logging will be tracked whether you use the website or the app.

Android Tutorial, opens a new window | Apple Tutorial, opens a new window

This program picks up where 1000 Books Before Kindergarten leaves off. Your child may register either when they finish that program OR as soon as they begin kindergarten. They may register any time before they begin sixth grade.

Absolutely! If your child has a favorite book, feel free to count it every time they read it. Just be sure when logging your books via Beanstack to simply increase the total count for "How many times was this book read?"

Absolutely! Any book and every book you read — or listen to — as part of your schoolwork counts toward this program.
Learn How: Beanstack
Learn how to track your reading process on Beanstack with help from Niche Academy.