"Do you want to make a popsicle man with a Mohawk?" A young woman with short-cropped hair and dark-rimmed glasses grins as she reaches across the table to gather a handful of colorful popsicle sticks, markers and electric blue yarn.
The question perfectly captures the spirit of whimsy, fun and improvisation that radiates from Columbine Library's Library for All program.
Five Jefferson County Public Library locations — Columbine, opens a new window, Golden, opens a new window, Lakewood, opens a new window, Standley Lake, opens a new window and Edgewater, opens a new window — offer Library for All as an interactive program for adults with disabilities. On average, 25 adults from local adult day-service centers participate in these monthly events. Library for All, which launched in March 2017, engages adult learners with crafts, Story Times, games, music and library exploration. Participants are offered a variety of different activities to self-select what they'd like to work on for the day.
"I do have a lot of fun here," says Chris who started visiting the Columbine Library and attending the program in spring 2019. Chris has created beaded pipe-cleaner bracelets, popsicle-stick picture frames and today, he works collaboratively with his friends to build a train engine out of KEVA Planks™.
"It's gonna be hard for me to do," he says as he concentrates on the provided sample. "But, I'm gonna try."
The group is comprised of adults across a spectrum of ages and abilities, but all are engaged, focused and, most importantly, having fun. Laughter and friendship are the key takeaways for the day, as participants work together, encourage one another and get to know adults from other community centers. 
"Everything is geared toward them," says Emily Crowley, adult service librarian at Columbine. "It's a really meaningful experience. Often these individuals have to fit into society's expectations, but at Library for All, we make it comfortable, appropriate and fun for them."
"I was too busy being social," Chris says with a shrug and a smile when asked if he finished building his train.
These elements of community and freedom make Library for All more than just an adult craft program.
"It's a great opportunity for this population to socialize in a safe and welcoming space," explains Sean Eads, adult service librarian at Standley Lake Library. "Giving them choices and options is really the highlight of it for me. Choice equals opportunity."
Della Spale, patron experience associate for Lakewood, agrees, saying, "The groups are so comfortable here, and I love the connections that happen. Any adults with disabilities are welcome to any of these programs. Not only do we want to welcome them into our community, we want to be a part of theirs, too!"
Each participating location offers a unique and tailored experience to engage adults with a wide-range of disabilities. Groups and individuals are always welcome. Learn more by visiting jeffcolibrary.org, opens a new window or calling 303.235.5275.
---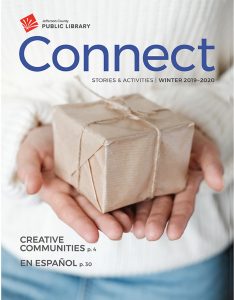 Coming soon - Connect magazine, winter edition!
Keep up with the latest stories and happenings about JCPL. There's something for everyone. And it's all free at your Library.
Find your FREE copy of Connect in local businesses, all JCPL locations and online.