Read this story in English. 
Durante varios años, la biblioteca ha colaborado con el Museo de las Américas, opens a new window para brindar oportunidades que permitan conectarse con la vibrante cultura de América Latina. Usted podrá explorar el arte, la danza, la música y mucho más en la biblioteca al asistir a cualquiera de nuestros eventos y programas realizados en colaboración con el museo. Este invierno, podrá visitar la exhibición itinerante Sin fronteras: música y danza, opens a new window en la Biblioteca de Arvada, asistir a varios talleres prácticos, opens a new window para crear sus propias artesanías latinoamericanas o visitar el museo en el Distrito de Arte de Santa Fe en Denver, con un Pase Cultural, opens a new window gratuito de la biblioteca.
Cuando las familias asisten a uno de nuestros talleres prácticos con el museo, como el de Máscaras Vejigantes, tienen la oportunidad de crear una pieza auténtica de la tradición latinoamericana.
"Queremos que sea lo más veraz posible", explica Alexis Newton, directora de educación del museo. El museo diseña cada programa teniendo en cuenta la manera en que la artesanía se elabora en el país y la cultura de origen. "Queremos que los asistentes tengan una experiencia auténtica y que creen una pieza que conserven y que tenga un impacto en ellos, algo que recuerden".
El Museo de las Américas fue fundado como un lugar donde los miembros de la comunidad pudieran aprender acerca del arte y la cultura de Latinoamérica e interactuar con ella. Según Alexis, más que promover el arte y la cultura de estas comunidades, "quisimos que nuestra comunidad tuviera una sensación de pertenencia, de importancia".
Para Alexis, esta es la razón por la cual las exhibiciones itinerantes, como Sin Fronteras, son aún más especiales. Del 4 de octubre al 10 de diciembre, usted podrá disfrutar de lo que ofrece el museo cuando transformen la Biblioteca de Arvada en un collage cultural. A través de toda la biblioteca, el Museo de las Américas presentará una colección de obras de arte, instrumentos y fotografías de México, Bolivia, Perú, Venezuela y el Caribe, destacando la variedad y la belleza de las danzas y canciones tradicionales.
"Es muy poderoso cuando el museo nos lleva a un nuevo espacio para realzar y celebrar el impacto duradero de los artistas y las culturas", añade Alexis. "Si no las exhibimos, en particular las pertenecientes a poblaciones latinas, podemos perder su significado".
Ya sea que elabore su propia máscara vejigante, admire las maracas del siglo XX exhibidas en la Biblioteca de Arvada o explore toda la colección del museo de manera gratuita con su familia, Alexis quiere que sepa que "El museo está aquí para ustedes. Hay mucho que podemos aprender si creamos un espacio para ello".
Explore más con el Museo y con JCPL en la biblioteca.
---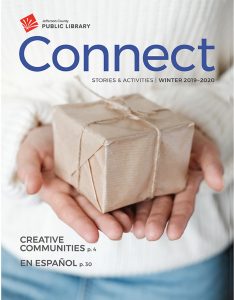 Coming soon - Connect magazine, winter edition!
Keep up with the latest stories and happenings about JCPL. There's something for everyone. And it's all free at your Library.
Find your FREE copy of Connect in local businesses, all JCPL locations and online.