"I'm not going to make any progress today! I'm just talking," Katja, a member of the Art House at Conifer Library, leans over her interpretive acrylic painting of a scarab beetle on canvas. She laughs at herself as she dips her brush in water.
"But are you enjoying your life?" asks Marcella, another member, who recently celebrated her third season with the group. Marcella pauses for a moment before she continues, "We're having fun. We're just a bunch of little girls in big clothes…coloring."
Katja and Marcella, along with Dina and Elissa are a group of four artists who comprise the core community at the Art House at Conifer Library. The Art House, opens a new window, offered at the Conifer and Evergreen Libraries each month, offers a space for artists of all skill levels to meet, work on projects and receive feedback from Chris McAllister, a local Evergreen painter and patron experience associate at Evergreen Library. Each woman started out as a novice, there to have fun and dabble in the fine arts. Like every artist who joins the program, Chris asks each of them, "What can I help you learn?"
"Chris is very patient with us," says Dina, a native of Panama. She moved to the area with her husband several years ago and discovered The Art House because she always likes trying new things and expressing her creativity. "It's very addicting! You kind of fall in love with your paintings," she says. In her work of landscapes done through oil on canvas, Dina practices perspective, confidence and "finding my own style."
To Elissa, who prefers to paint cows and horses because of "their sweet faces," being a creator means showing what's in your head and bringing it to life on canvas, and she's grateful for The Art House for giving her such a safe, fun community to do just that. "We get along well," she says. "There's a lot of love, support and giving here."
Katja agrees. What she loves about The Art House is also the group of friends she's made and the unique perspectives and interests each of them lends to the experience. "Everyone has their own thing," she says.  "I think it's so funny how we each paint something different, but we all came to the Library to do it."
As they work, the conversation ranges from painting to weekend plans to hunting and recent nature sightings. They're supportive, generous and welcoming. "You have to come back," they say. "Bring your water colors! I'll bake cookies."
Chris, Dina, Elissa, Marcella and Katja invite you to the community at Conifer and Evergreen. In Marcella's words, "Grab the reins. There's so much gratification in doing things, in not letting old arts die."
The Art House Artist's Gallery
Visit the Evergreen Library to view the artist gallery in person. Or, click the images below to enlarge. 
---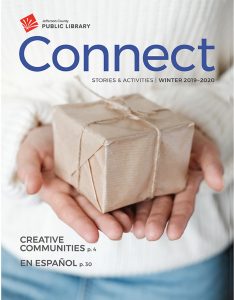 Coming soon - Connect magazine, winter edition!
Keep up with the latest stories and happenings about JCPL. There's something for everyone. And it's all free at your Library.
Find your FREE copy of Connect in local businesses, all JCPL locations and online.