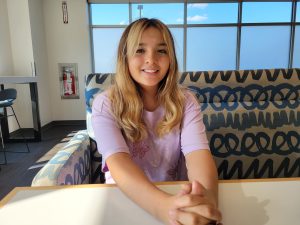 Ashley is a smart, organized, dedicated teen who has been volunteering at the Edgewater Library since 2019. The Library is a big part of her life — even before she became a volunteer: Her mom works at the Library, and Ashley has many fond memories of coming along to help out after school. In fact, you can still find Ashley at the Library most evenings — she just loves to be here! Ashley remembers visiting the Lakewood Library when she was young, but since the unveiling of the new Library inside the Edgewater Civic Center, she almost exclusively volunteers and reads in this newly renovated space. Luckily she can walk to the Library — which makes volunteering a breeze!
Ashley started volunteering in the summer of 2021, helping with outdoor story times, and in 2022 she spent even more time helping with the Summer Challenge. She could be found at the Library multiple times every week this past summer, clocking 40 hours of volunteer service in June and July alone.
During her volunteer shifts, she helped with Summer Challenge registration, Story Time, Pride events and giving out prizes. Helping others is her main motivation for volunteering. After spending much of her childhood at the Library, she loves seeing kids enjoying the summer programs and encouraging young readers to visit the Library.
As a high school sophomore, Ashley has lots of responsibilities on her plate during the school year. She is active in her school's multicultural club, where she and other students meet to talk and share about their cultures. She is also enrolled in a Teen Choices class — designed to help students navigate tough situations they encounter in high school, as well as help prepare them for success beyond high school in their jobs and future education. Outside of school hours, Ashley loves playing soccer, hiking and spending time with her friends.
Despite all these different activities, Ashley still makes time to attend TAB meetings and help with the occasional library event during the school year. She also recently completed an eight-week Family Leadership Training program through the Library to continue growing her skills and experience.
"I really like the staff here and the environment," Ashley says about why she chooses to spend her time at the Library.
"Ashley has been such a positive influence on staff and the public. She is bilingual, she works well with every age group, and she has a fantastic attitude," Edgewater Teen Librarian Amy says.
Ashley already has big plans for after graduation. She aspires to get her aerospace degree from the University of Colorado Boulder and is already well on her way, with excellent skills in math and the drive to succeed in whatever she puts her mind to. We are rooting for you, Ashley, and know you have a bright future ahead!