Volunteers play vital roles in helping the Library further its mission of building an educated and vibrant community through access to information and opportunities. Each month we introduce you to and highlight the work of some of these generous individuals.
Meet Pat Cervera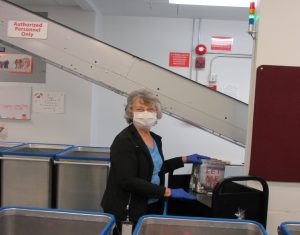 A year after retiring as a Supreme Court Judge, Sandra Day O'Connor joked about her "nightmarishly" busy calendar saying, "I need to retire from retirement."  Volunteer Pat Cervera has apparently taken a page right out of Justice O'Connor's retirement book, as she's every bit as busy now as she was prior to retiring from a long career as a state employee and consultant in the criminal justice arena.
"Well, let's see – besides volunteering with the library I've also volunteered at the Arvada Center for the Arts and Humanities, at the Arvada Reservoir as a volunteer ranger, and at the Red Rocks Gift Shop," Pat says.  But, wait – there's more.  This busy lady has previously also sat on two City of Arvada Boards (Parks & Recreation and Human Services), and after recently downsizing and moving to Wheat Ridge, Pat has just been appointed to that City's Parks & Recreation Board!  Her motto?  "Contribute as much as you can and be involved!"
A seven-year veteran of JCPL's volunteer work force, Pat serves in not one, but two different capacities – assisting the Arvada Library's operations team and with Home Delivery, an outreach service that has been temporarily suspended due to the COVID-19 pandemic.
"I delivered books and things to 4-5 people in their homes once a month.  They each had different abilities and tastes, but they had one thing in common – they were all homebound.  I liked being able to sit down and visit with them for a while to see how they were doing.  I really miss seeing them and I just hope they're doing all right.  I would love to do Home Delivery again when it starts back up."
In the meantime, Arvada Library keeps Pat plenty busy one day a week with shelving holds and books, retrieving requested materials from the shelves, searching for missing library items, and other assorted tasks.  "Yes, Pat's a workhorse.  And the times she's bailed us out when we're short-handed have been countless," says Erin Pepmeyer, Arvada Library's Operations Supervisor.  "She's been here so long; she knows exactly what needs to be done."
Pat has been in Colorado for a long time too.  Originally, from Iowa, Pat's father was career military, so her family moved often.  Eventually, they "stopped" in central Kansas when her dad retired and she stuck around to attend college and get married in The Sunflower State.  Then Pat and her husband moved to Colorado in 1968, and she has been here ever since, her wayfaring days over. 
"I have four children, eleven grandchildren, and two great grandchildren – and all but one of them live here in Colorado and close by," Pat says.  "And I get to watch my great grandson one or two times every week.  He'll be two years old next month – so full of energy, he keeps me running."
Pat has no plans for slowing down in the near future.  An avid traveler, she enjoys monthly Colorado excursions and is also a big fan of European river cruises.  She's in the early stages of planning a Rhine River tour in about a year, when she hopes, such excursions will be safer.  Meanwhile, Pat continues to play tennis as often as she can and throw pots during open studio time at the Apex Center in Arvada.
"And I LOVE volunteering at the library," Pat adds.  "I've became very familiar with all of the services the library provides the community.  Like the downloadable audio books.  During COVID, I started downloading audio books to my phone and I tell people about that all the time.  I might not have known about it had I not volunteered for so long.  So I like to encourage people to try volunteering with the library.  It's fun and flexible – and the staff is always so very appreciative of my help."
Pat, if you're not careful, we might just put you in charge of volunteer recruitment – that is, if there is still "spare time" left on your busy calendar!