Volunteers play vital roles in helping the Library further its mission of building an educated and vibrant community through access to information and opportunities. Each month we introduce you to and highlight the work of some of these generous individuals.
Meet Shannon Parry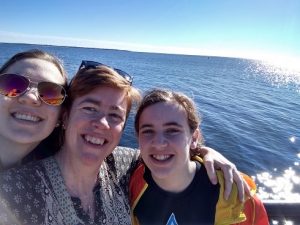 Back in the 1950s and 1960s, a psychologist named David McClelland performed groundbreaking research in the field of human motivation and its applications in the work place.  He suggested that most people are driven by one of three primary needs – the need for power, the need for affiliation, or the need for achievement. 
Folks driven by power long to be in authority, to generate impact.  Those who seek affiliation are the people persons – the sensitive team players who love interacting with others.  And the achievement folks?  They're the industrious ones – the people who long for a sense of accomplishment.  The ones who get stuff done.  You know them – busy hands, moving feet.   
Shannon Parry is most definitely an achiever.  A Jeffco volunteer since fall of 2019, Shannon currently assists Golden Library's Operations team, shelving holds and media, and processing paging lists.
"There are so many things I love about volunteering at the library," Shannon says, "but I get a real thrill any time I walk into the Operations work room and all the carts are empty – and I think, 'I helped accomplish that.'"  
According to Jonathan Feller, Golden Library's Operations Supervisor, Shannon "not only shows up for her shifts, she has consistently offered to help with additional shifts when we are short.  She has been a very big help."
Originally, an Air Force kid whose family moved from base to base throughout her childhood, Shannon eventually put roots down in Nebraska, where she worked in higher education for twenty years.  During that time, she also started a family – two lovely daughters, Cate who attends Dunston Middle School and Maxine, who is a sophomore at Cornell University, studying Entomology.
"She's already bee expert.  She actually identified a new bee species that had never been discovered!  Can you believe it?" 
Shannon and family moved west to Colorado a couple of years ago and shortly thereafter, she began researching volunteer opportunities.  "When I was working at the University of Nebraska, I'd often hang out in the library.  It was sort of an escape for me – I just loved the vibe there," Shannon recalls.
It did not take long for Shannon to find the volunteer program at JCPL, where she signed on for "double duty," assisting in Operations at Standley Lake Library and with children's craft preparation at Golden.  But then – the pandemic.
"One of the things I like best about volunteering is the feeling that, even in small ways, I'm helping my community, doing something with my time that someone appreciates.  I love helping people – the patrons AND the people who work here.  I missed that sense of contributing during the pandemic."
Always the achiever, however, Shannon stayed quite busy during the bleakest months of COVID-19, reading and pursuing favorite hobbies – sewing and embroidery – and walking and hiking with family in the great Colorado outdoors.  Busy hands, moving feet.
Shannon returned to Golden Library as a volunteer in the early fall, happy to be able to do something purposeful again.
"In the spring and summer, I was reminded of how things were when I was growing up in the 1980s, when the Cold War was up front and personal.  When Chernobyl blew up I was morbidly obsessed with it, and looking back, I think it got me interested in observing how people are in groups.  The pandemic has had a similar effect on us, and I was SO glad to return to the library.  I loved that it gave me a break from the chaos.  I loved that it let me be productive and actually accomplish something positive, even in small ways, for the patrons."