Patti Romano, Golden Library
November's Volunteer Spotlight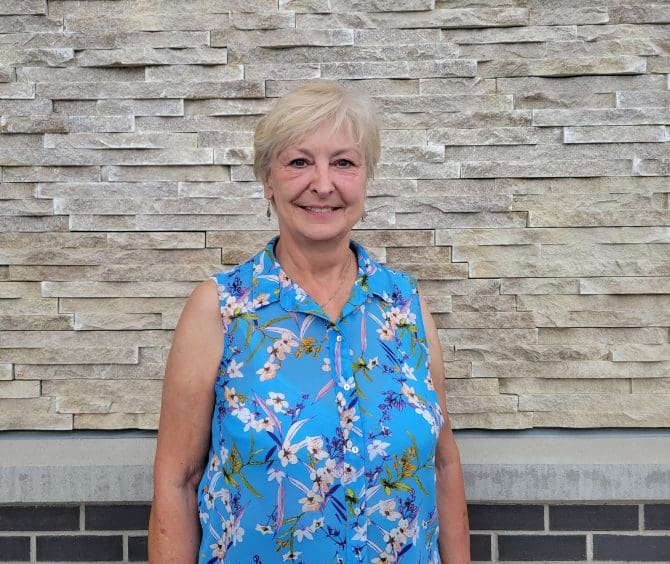 With nine months of service under her belt, Patti is still a newcomer to the JCPL's volunteer program, but she has quickly made her mark on the Golden Library!
Patti began volunteering once a week, helping greet families attending Story Time and Let's Dance programs. Right away, patrons and staff noticed and appreciated her patience and calming energy and have come to rely on her help for more than just Story Time programs.
"Patti has really stood out as someone who is consistently enthusiastic, reliable and flexible. Everywhere she is, things go more smoothly. She is unflappable, focused and has an energy that staff really appreciate," says Kat LeFevre, patron experience supervisor. "Patti's volunteer activities have blossomed from when she started with Story Time greeting being her primary task; she has enthusiastically helped with a variety of programs, including Library for All and our Teen Pride Day party."
Patti is no stranger to working with youth after teaching music for over 30 years. She started playing trumpet in the symphony band — where she met her husband, Ric. She fondly remembers being distracted in practice, whispering to each other until their section leader finally sat between them to keep them focused. Patti switched to teaching vocal rather than instrumental music early in her career because "I got tired of Hot Cross Buns!" she says with a laugh. 
As a choir teacher, Patti had over 500 students at a time; no wonder she can easily manage the often chaotic registration at Golden's Story Times! One of her funniest memories from volunteering was at the start of a particularly busy Story Time. After seeing the Library entrance full of toddlers, a patron earnestly asked, "Is this a daycare?"
Patti's favorite part of volunteering is interacting with the toddlers that come in for programs with their huge smiles and seeing how happy and excited they are for Story Time and Let's Dance. She often sees the same families each week and enjoys the connections she's made at the library. She also appreciates the familiarity of the Golden Library staff. Patti notes that every staff member takes the time to call her by name and thank her for volunteering.  
Though still new to JCPL, Patti is a seasoned volunteer and remains active in many other community organizations. She regularly volunteers at the Action Center and the Riverdale Animal Shelter and sings in her contemporary vocal group at church. Patti is also a skilled artist and regularly cohosts art shows with Ric, who is an artistic woodworker. Her other hobbies include cooking (mostly vegetarian as she is a lifelong animal lover), reading and solving cryptographs. She jokes that her second career could be working as a codebreaker for the CIA after all her practice solving cryptographs and other puzzles! 
Currently, Patti is making her way through the "Anne of Green Gables, opens a new window" series, which has also gotten her hooked on the show "Anne with an E." Her other favorite literary genres are mysteries and thrillers. 
The rest of her free time is taken by the newest addition to the family — a recently adopted beagle named Sammy, who keeps the household on its toes with his antics.
We hope Patti continues to volunteer at the Library for a long time. "Patti has been a natural since the beginning," Kat concludes. "Her calming energy is very popular with our patrons, and the Golden team is incredibly fortunate to have her." Thank you, Patti!!