Beginning October 21, 2019, everything that is eligible for renewal will renew automatically! The total number of renewals has also increased from three times to six times.
If you want to control your renewals yourself, that is still an option:  from jeffcolibrary.org, click on Log in/My Account, then Checked Out, then enter your library card number or username and PIN. Items are automatically sorted by due date. There are several options for renewing.
You can renew items individually by clicking on the Renew button near the title: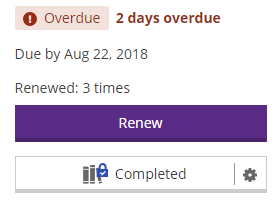 You can renew everything that is overdue or everything that is due soon with the Quick Renew option near the top right of your checked out list.
You can renew multiple titles at once by clicking in the check boxes to the left of each title and using the options on the purple bar at the bottom of the screen:
You can renew in batches, using the left menu to select Overdue, Due Soon, or Due Later. Click the "Select # items" checkbox, then use the Manage Items bar at the bottom of the screen.