Explore all the ways we're working to meet your needs using the links below. Check back often and subscribe to our mailing list for the latest updates.
Locations and Services
Service Updates
Under guidance from Jeffco Public Health, we've implemented new capacity limits and service adjustments that allow us to offer walk-in services once again at select locations. For additional information on hours and available services, please see your location below.
Wheat Ridge Library will begin walk-in services on June 14.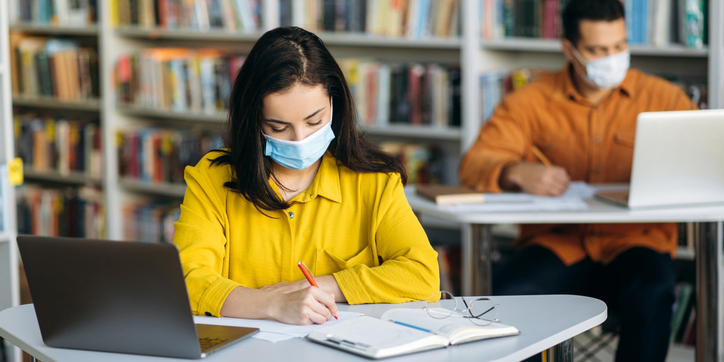 Know Before You Go!
---
As part of our updated COVID-19 Code of Conduct, we're asking that you respect physical distancing as we continue to implement cleaning protocols to create a safer environment for staff and the public.
Face coverings are requested, but not required for all patrons. We will also continue to offer modified services, such as curbside, home, or online services.
Because library materials are shared resources, we encourage you to practice good hygiene, including frequent hand washing and other practices recommended by the CDC.
Please do not visit any Library location if you:
are experiencing any COVID-19 related symptoms, i.e. have a fever, cough, chills, muscle pain, sore throat, shortness of breath or difficulty breathing, or new loss of taste or smell.
have been in recent contact with someone who has a confirmed or suspected case of COVID-19.
---
Please Note: You may experience wait times when entering buildings due to physical distancing requirements and occupancy limits. We appreciate your patience and understanding.
Locations and Services
Service Updates
Inclement Weather: The safety of our patrons and our staff is our highest priority. In certain situations, curbside services may be temporarily suspended for inclement weather or dangerous conditions. Please confirm your location is open and what services are available before visiting.
No curbside services are available at Conifer Library.
Curbside How-To
---
Step 1: Arrive at Location and Notify Staff
When you arrive, look for a designated curbside pickup space. Text or call the number on the sign. Let us know you're here and what materials you are here to pickup (holds, printing, tax forms, registration prizes, etc.).
If you don't have a mobile phone, call 303-235-5275 before you leave home to let us know you're coming.
---
Step 2: Prep for Delivery
If you arrive by car, please open your trunk, car door or window. Either stand a safe distance away from others, or remain in your vehicle.
---
Step 3: Receive Your Items
A staff member will then place your items into your open vehicle as part of our contactless service. Confirm you have all the materials you need and enjoy your items from home!
Please note: Wait times may be longer during peak visitation times. We aim to meet every request as quickly as possible while keeping the health and safety of our staff and community a first priority.
Additionally, as all library materials are shared resources, we encourage you to practice good hygiene, including frequent hand washing and other practices recommended by the CDC.
More About Curbside Services
Appointment-Free Holds Pickup
When you receive a notice that your items are ready for pickup at your preferred location, simply follow our curbside process to collect them. Holds will remain available for pick up for 14 days.
Send your prints from home, then pick up your materials the same day -- no appointment necessary!
A new take and make craft/activity kit is available for pick up at all locations every third Thursday of the month. Kits are available for all ages, but supplies are limited. Request yours when you visit any curbside or walk-in location.
Grab & Go Bundles at Select Locations
Our bundles will surprise you with books, DVDs, and audiobooks on popular themes. From cookbooks to mysteries to family read-alouds, discover something new! Bundles contain anywhere from 3 - 5 items, comprised of all books, all DVDs or all audiobooks. Ask for a bundle during your next visit. Available at Arvada, Belmar, Edgewater, Evergreen and Wheat Ridge.
Normal due dates have resumed and so has autorenewal. As we return to more "normal" services, we ask that overdue items get returned. You can return your items to all libraries and our always-open Returns Bins. Items not returned will begin to incur replacement fees after 28 days.
Please park and exit your vehicle to return your items into designated walk-up book drops. For drive-up book drops, please pull up completely to the book drop to return your items. Our curbside staff are unable to take items directly from you at this time, in accordance with safety guidelines.
---
Please note:
There is no more quarantine for returned items. As all library materials are shared resources, we encourage you to practice good hygiene, including frequent hand washing and other practices recommend by the CDC.
Print magazines: Out of an abundance of caution, we are no longer accepting returns on print magazines. If you have a print magazine currently checked out, you are invited to keep it, and the item will be removed from your account.
Browse the FAQs for more detailed information. If you need further assistance, library staff are here to help. Call 303.235.5275 or Ask Us for more information.
Sanitizing spray will be available if you would like to clean the room prior to use. Rooms are opened overnight and are cleaned daily. 

Curbside pickup is one of the first steps in JCPL's Gradual Return to In-Person Services. Curbside pickup is contactless, and prioritizes the safety of you and our staff while making physical library materials available.

To use the JCPL Curbside Service, simply place a hold and select one of the locations offering pickup. When your items are ready, you will receive a "ready for pickup" notification. Once you have received that notification, you can stop by anytime from 9am – 5pm, Monday - Saturday, and 12-5pm on Sundays, to pick up your holds. We will keep your holds on the shelves for 14 days.

When you arrive to pick up your item(s), please park in a designated curbside spot (or walk up if you don't have a vehicle), and text or call the library phone number on the sign. Give staff your name and library card number. Please open your vehicle trunk and stay or get back inside your vehicle. A staff member will then bring your item(s) out to you and place them in your open vehicle. These steps allow us to offer a contactless service that prioritizes the health of our community and staff.

You can travel to pick up your holds at more than one location, or you may call 303-235-5275 to have your material moved to a single location.

If you wish to pick up holds for multiple people, you will need to provide the library card number for each person.