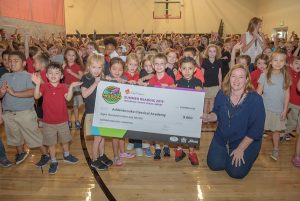 Help your school win $800 in the Explore Summer Reading, opens a new window School Contest!
Your school will win if it has the highest percentage of students completing the Explore Summer Reading Challenge. To finish Explore Summer Reading, you must complete 30 activities. One school from five different categories (Preschool, Elementary School, Middle School, High School and Charter School) will be awarded the prize. With Summer Reading drawing to a close, grab a book, read your favorite stories, complete fun activities and log them online to finish for your school!
Visit the Jefferson County Public Library School Contest page, opens a new window to see the updated rankings and where your school stands. This page is updated on a weekly basis.
Don't see your school? You can find it by viewing the full list of school rankings, opens a new window.
There is still plenty of time to log your Summer Reading activities, opens a new window and push your school to the top of the list—or if you're already there, to extend your lead. There are great virtual programs, opens a new window happening for all age groups at JCPL, including virtual Story Times for kids, Dungeons & Dragons for teens and craft opportunities for adults.
In past years, winning schools have used the $800 prizes on improving their library resources by expanding their audiobook collections and Spanish language materials, or making improvements such as buying more comfortable seating for their school's library.
If you haven't registered yet, don't stress—you can still register, opens a new window and log all of the activities and reading you've done since June 1 to earn great prizes, opens a new window!