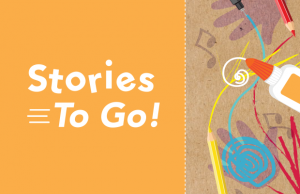 Kids are naturally curious. Young children have limitless interest and enthusiasm for learning about the world around them. Reading together with a child develops a bond and demonstrates your love for books and learning.
Excited children often come to my desk asking for books surrounding a topic currently on their mind. They want to understand their world and will gleefully share their new knowledge with anyone who will listen. They retell the stories they've learned from books many times over - an important piece of early literacy in young children.
Jefferson County Public Library cares about our curious young patrons. Twelve new special take-home kits called "Stories To Go" are now available for checkout. Developed especially for these growing minds, the cute, bright bags contain six picture books (five fiction, one non-fiction) and helpful activities to enhance the story telling. These activities reinforce the fun of reading and quench those young, curious minds through rhyming, songs and related crafts that bring the stories to life.
Check out all the themes in our catalog when you search "Stories to Go" and enjoy them with your children or grandchildren! You can place kits on hold and keep them for three weeks so you'll have plenty of time to discover these interesting topics together.
Alphabet
Bedtime
Bugs
Colors
Counting
Dinosaurs
Farms
Frogs
Mother Goose
Noise
Pets
Shapes
Watch for another dozen kits to explore together in 2018! Thanks to Jeffco voters for the opportunity to bring reading home!