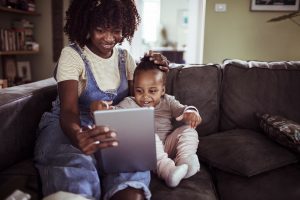 Connect with other parents and caregivers while engaging your kids with theme-oriented activities every Friday from 10:30 – 11:15 a.m. with the new Virtual: Play and Learn series.
The first 15 minutes of each event is for the short themed activity for your kids. You can use the rest of the time to talk with other parents and caregivers.
Upcoming themes are:
First Friday: Early Literacy and Story Time
Second Friday: STEAM
Third Friday: Movement to Music
Fourth Friday: Community Resource Professionals
"The whole goal of this program is to support you as parents and caregivers to create interactions that will last a lifetime," said Jennifer French, coordinator of Kids and Families at JCPL. "Library staff will demonstrate a variety of quick and easy activities that can have a big impact on your child's development."
Save your spot for this event, opens a new window now, and then gather your kids every Friday morning for Virtual: Play and Learn!