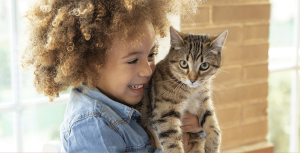 While we say "sharing is caring," a monthly event hosted by Jefferson County Public Library (JCPL) illustrates how a love of pets—in all shapes, sizes and forms—can be educational and help with life skills.
This Friday, grab your favorite animal—real or stuffed—and learn from a veterinarian at Mesa Veterinary Hospital at 10:30 a.m. You'll get to see the process of examining a dog from start to finish! Save your spot for this Zoom program now!, opens a new window Then mark your calendars for JCPL's monthly Pet Show and Tell events.
"During this pandemic, our pets have been our constant companions," said Briana Francis, JCPL Kids and Families Coordinator. "A lot of people love animals and kids love learning about them. It's also a good opportunity for younger kids to work on their sharing skills and it's a nice social option for them."
If your kids are social butterflies, they can sit in front of the camera and share to their little hearts' content. But if they're camera shy, they can just watch, listen and learn with the others.
JCPL's librarians have designed fun events just for you, including the opportunity to virtually visit Luvin Arms Animal Sanctuary, opens a new window in April; and in May, you'll have a lot of fun with some Groovy Goats, opens a new window. Connect and share at our monthly Pet Show & Tell events!