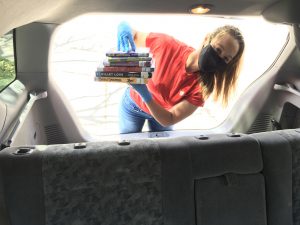 Good news! You no longer have to schedule an appointment to pick up your holds at any Jefferson County Public Library offering curbside services.
Once you receive a notice that your items are ready, they'll remain available for curbside pickup for 14 days. Simply drive or walk up to a designated curbside service spot and call the posted phone number to request your holds. Collect them anytime from 10 a.m. – 5 p.m., seven days a week, no appointment necessary!
Wait times may be longer during peak visitation times. We strive to meet every request as quickly as possible while keeping the health and safety of our staff and community our first priority.
We have expanded curbside services to Belmar Library and the JCPL Bookmobile. Belmar Library is in the final stage of renovation, and like all library buildings, remains closed to the public at this time. However, curbside services are being offered there daily, and returns are being accepted at the return slot near the front entrance.
Beginning on Saturday, June 27, the Bookmobile, opens a new window will be available every Saturday, except for July 4, at the Safeway Shopping Center on Ken Caryl Avenue in Littleton from noon – 4 p.m. When you place your materials on hold, simply select "Bookmobile" as your pickup location. Once you receive confirmation that your holds are ready, you can pick them up anytime during the Bookmobile's curbside service hours. The Bookmobile location also has a new Book Drop for returns that is available 24/7.
Don't worry if the items still show on your account a couple of days after you have returned them. All items will remain in quarantine for at least 4 days before being checked in, and some items may still show on your account for slightly longer.
Since JCPL began piloting curbside services, more than 10,000 appointments were made and more than 53,000 holds have been picked up. We have eliminated the need for an appointment in order to better meet the needs of our community. Continue to check our website for news regarding other service updates. JCPL will always be here to connect you to the people, ideas and inspiration for whatever's next in life.