Read this story in Spanish. 
For several years, the Library has worked collaboratively with Museo de las Americas, opens a new window to bring you opportunities to connect with the vibrant culture of Latin America. Explore art, dance, music and more at the Library when you attend any of our events and programs in partnership with them. This winter, you can check out their traveling exhibition Sin Fronteras: Music and Dance, opens a new window at Arvada Library, attend various hands-on workshops, opens a new window to make your own Latin American craft, or visit Museo itself in The Art District on Santa Fe in Denver with a free Culture Pass, opens a new window from the Library.
When families attend one of our hands-on workshops with Museo, like Máscaras Vejigantes, they have the opportunity to create an authentic piece of Latin American tradition.
"We want to make it as true as possible," says Alexis Newton, education director for the museum. Museo designs each program by considering how the craft was made in the country and culture of origin. "We want [attendees] to have a genuine experience and to make a piece that stays with them and impacts them; that they remember."
Museo de las Americas was founded as a destination for community members to interact with and learn about Latin American art and culture. According to Alexis, more than promoting the arts and cultures of these communities, "[We want] our community to feel that they belong; you are important."
To Alexis, this is why traveling exhibitions like Sin Fronteras are even more special. From October 4 through December 10, you can experience a taste of Museo's offerings as they transform the Arvada Library into a collage of culture. Throughout the Library, Museo de las Americas presents a collection of artwork, instruments and photography from Mexico, Bolivia, Peru, Venezuela and the Caribbean, showcasing the variety and beauty of traditional folk dance and songs.
"It's extremely powerful when Museo takes us into a new space to highlight and celebrate the lasting impact of artists or cultures," Alexis says. "If we don't showcase those, especially from Latino populations, we can lose their significance."
Whether you're making your own Vejigante mask, viewing 20th century maracas on display at Arvada or exploring the full Museo collection for free with your family, Alexis wants you to know that "Museo is here for you! There is so much we can learn if we allow a space for this."
Explore more with Museo and JCPL at the Library.
---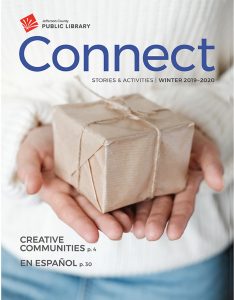 Coming soon - Connect magazine, winter edition!
Keep up with the latest stories and happenings about JCPL. There's something for everyone. And it's all free at your Library.
Find your FREE copy of Connect in local businesses, all JCPL locations and online.