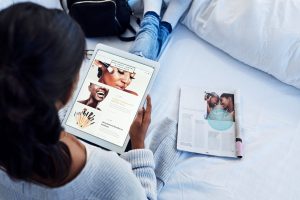 Your favorite magazines and newspapers subscriptions at Jefferson County Public Library will be paused at the beginning of 2021 due to safety concerns. We look forward to bringing them back as soon as it is deemed safe. Until then, you can still access a variety of magazines through the JCPL Online Library, opens a new window!
All library materials go through a mandatory quarantine, opens a new window period when they are returned. The seven-day quarantine makes newspapers obsolete by the time they reach more than one reader. Magazines require an even longer quarantine, as the virus lives longer on those glossy pages. For several months, we have not recirculated magazines once an individual patron used them, due to this safety concern.
"We are thinking of our patrons' well-being and keeping their best health interests at the forefront of our minds," said Franca Rosen, collections supervisor at JCPL. "When we know that we can safely get our magazines back in our Library, we will work really hard at getting them back as soon as possible."
In the meantime, you can still enjoy your favorite content through the Online Library, opens a new window. Learn about all the ways to access magazines and newspapers, opens a new window, whether you prefer Flipster, opens a new window, Press Reader , opens a new windowor Overdrive/Libby, opens a new window. RBDigital magazines are moving to OverDrive/Libby. Borrow and read more than 3,000 digital magazines in the Libby app on Android or iOS, and in the OverDrive app on Kindle Fires. Learn more about getting started with digital magazines on Overdrive/Libby by checking out our FAQs.
Whether you're interested in People Magazine or want a niche magazine about a hobby, start browsing all the magazines and newspapers available online through JCPL!
We look forward to the day when magazines and newspapers will be back at JCPL. Until then, explore the wide collection in the JCPL Online Library!