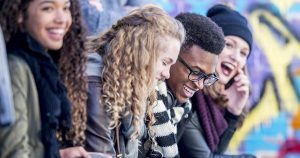 Nick Ryan restocks the medical shelves at St. Anthony Hospital in Lakewood, ensuring that all equipment and products are where they need to be, and notifying staff when there is a shortage. Today, medical equipment like gloves and masks can literally be the difference in saving a life.
He also facilitates communication between the hospital staff, patients and family members, an urgent, stressful and often difficult responsibility during uncertain times. It's a job that requires empathy, discipline and resolve.
Nick is also a senior at Lakewood High School.
Nick knew he wanted to go into the medical field early on and is thankful for the opportunities he has gotten as an intern for St. Anthony's, according to a testimonial posted on Trustable Adults.com, a site dedicated to the philosophy of Positive Youth Development (PYD).
"I don't take life for granted as much as I used to," he said. "And I feel more motivated to collaborate with my community."
Nick's work is valuable on several levels, and it illustrates the value of PYD, which Jefferson County Public Library (JCPL) will be discussing during Conversations: Let's Talk About PYD, opens a new window on Wednesday, March 17 from 6 – 7:30 p.m.
Positive Youth Development
PYD is an approach that focuses on helping youth acquire the knowledge and skills they need to become healthy and productive adults. JCPL has used PYD as a foundational principle in working with teens since 2016 and is focused on helping teenagers find experiences and skills that help them develop the confidence and traits to transition to adulthood. PYD also provides guidance to the community and organizations about services and opportunities for teenagers.
JCPL Teen Services Coordinator Arra Katona will touch on the traits of PYD and then open the room to discussion on how to help parents, teens and the community in this pursuit.
"As a community, we have a role to play in supporting our youth and providing good experiences to become successful adults," Katona said. "It's about building trusting youth relationships and steering them away from those negative risks and helping them steer themselves into having those positive risks and opportunities and skills they need as adults."
Teens Make a Difference
JCPL has several opportunities for teens to serve on Teen Advisory Boards to make decisions and provide feedback on how certain events and resources influence their age group. Recently, teens weighed in on the Belmar Library renovation, opens a new window, and helped influence the ways in which the Library could interact more successfully with teens.
"We got to meet with the architect before they went into design and got to help design a space dedicated for teenagers," Sarah Hitchcock, 16, said. "It was really incredible to have our voices heard and to have us help make a place designed for us. It really means a lot that JCPL trusts and believes that we had the vision to be able to help with something as lasting and permanent as a library."
Come discuss ways to better help teens and the community create the best environment for them to become successful adults during the event on March 17!
Conversations is a monthly series in the fall and spring whose goal is to create a safe space for meaningful conversations about important and sometimes emotionally charged topics. Contribute to the conversation or just listen and learn. You can also submit a topic of conversation for a future meeting by sending an email, opens a new window to JCPL.