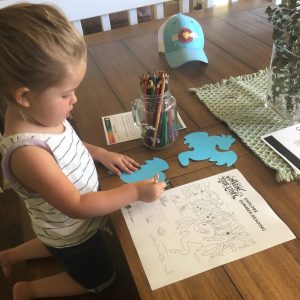 Summer's been extended!
Explore Summer Reading, opens a new window is extended through August 31, so you now have more time to read, log your activities and win great prizes, opens a new window!
Summer Reading is an important way to combat the summer slide while making stay-at-home more fun, and prizes offer a great incentive to achieve your goals. We have some awesome prizes available at most Jefferson County Public Library locations.
You get a prize just for registering with more great prizes available for making it halfway through, as well as finishing your Summer Reading adventure! These prizes include:
A coupon for a free small entrée from Noodles & Company for all who register
A book for reaching midway for babies, toddlers, kids and teenagers
A journal for reaching midway for adults
A pair of baby socks for babies upon finishing
A choice of a second book, a journal or a seed paper bookmark for toddlers, kids and teenagers upon finishing. Adults will receive a seed paper bookmark for finishing.
Starting August 1, you can come pick out your prizes! In the library, you'll find a selection of 20-30 prize books on display, along with the prize journal and seed paper bookmarks. Let staff know your selection, and they'll provide it in a bag for you to take home that day!
The book selection will change, so if you don't like the selection available on a certain date, you can always come back and visit us another day. For safety reasons, please don't touch the books while they are on the display. You won't be able to exchange your prize book later, so make sure you pick out the book you want.
If you don't feel comfortable going into the library just yet, prizes will be available through the end of 2020. You may pick up socks, bookmarks and journals through curbside pickup.
Haven't registered for Explore Summer Reading yet? It's not too late! Register, opens a new window yourself and your family, and immediately start logging your activities. You can also go back and log all the activities, opens a new window you did starting June 1. As more people continue to register, you can also be a hero, opens a new window for Foothills Animal Shelter, helping to contribute another $100 to their mission of finding homes for the many animals they take care of each year.
There are dozens of possible activities listed on the Beanstack online app, opens a new window, where you can find Summer Reading inspiration and track your progress. You can also use a JCPL computer to sign up and record activities online while you are in the library. Still want more ideas? JCPL hosts dozens of virtual activities, opens a new window, and all of them count toward Explore Summer Reading.
With more time to read, win prizes and enjoy fun activities, this summer continues with the power of your imagination!
A special thanks to our Explore Summer Reading sponsors for their support of JCPL this summer!
Jefferson County Library Foundation
Noodles & Company
Denver Botanic Gardens
Elitch Gardens Theme & Water Park
ENT Credit Union
The Kettering Family Foundation
Lakeside Amusement Park