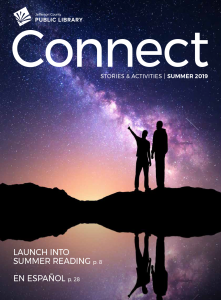 We're excited to announce that we're launching a new quarterly magazine! Our first edition of Connect brings you information, stories and news about the Library—just in time for summer fun. In this upcoming edition, you'll find information about Library happenings for the months of June – July.
Connect arrives on shelves starting May 1. You can grab your copy at select Jefferson County grocery stores and businesses, all JCPL libraries and online at jeffcolibrary.org. We've also partnered with Jefferson County Public Schools to make sure students across the district have access to this magazine. School distribution begins mid to late April.
To make sure you don't miss the arrival of Connect, sign up, opens a new window to receive the magazine directly to your inbox in digital form. When you sign up for e-Connect, we'll keep you updated on this and other important news.
We can't wait for the arrival of Connect. We know you'll love this latest offering that helps you always be exploring. There's something for everyone! And it's all free at the Library!