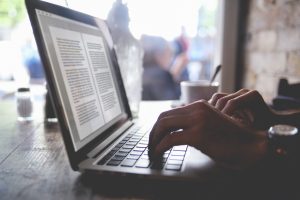 The following successful books all have one thing in common, besides being located on Jefferson County Public Library (JCPL) shelves:
Each of these three books was published independently, meaning the authors didn't go through large publishing houses. The process of publishing your novel with large publishing companies can be overwhelming, expensive and difficult. For all the independent authors in Jefferson County, there's a way to get your books in front of more readers and start building your literary career!
You can submit manuscripts of all types and lengths in the adult fiction and young adult fiction categories to the Colorado Author Project, opens a new window, also known as the Indie Author Project, from now through the end of May.
JCPL has been involved in facilitating easy access to the Colorado Author Project for the last two years, which gives first-time authors the chance to receive feedback on their stories from a board of reviewers. And if this board finds your story promising, you just may see your book on shelves one day in the future!
"This is an invaluable resource," said Franca Rosen, JCPL's collections supervisor. "At the Library, we have a lot of resources, but primarily, you see the books on our shelves. As a public library, being able to offer a writing tool and support independent authors is a great service."
The prizes are great, too! If your book is chosen in either the adult or young adult categories, you can win $500, be honored during the 2021 Spring Indie Author Project reception, receive a full-page spread in Library Journal and have opportunities to promote your book at several public libraries throughout Colorado. Some winners have also gone on to be signed by large publishing houses, Rosen said.
The Indie Author Project is an organization that holds author contests annually in several states and categories. If you have a great idea for a novel that you want to submit in the future, start typing away and get it ready for next year.
Dealing with writer's block or motivation challenges? JCPL has lots of resources to help your brain start kicking into writing gear! Visit the JCPL Writing Page, opens a new window, where you can find more information on the Indie Author Project, staff lists centered on creativity, opens a new window, writing help for all ages, opens a new window and other ways to self-pwublish your work, opens a new window.
At JCPL, we support your reading wants and needs as well as your desires to write and be read by others!