Belmar Library is open and better than ever, thanks to you! We are so excited to re-introduce your new library.
Our first step in the redesign process was to ask for your feedback.
"We exist to serve the community. Our goal is to listen to what you're saying and what your needs are," said Lizzie Gall, Assistant Director of Library Experience. "By really engaging in those conversations and understanding what you're looking for, we were able to design spaces that best meet your needs."
"Our community will be the ones using the Library, so their input on how they feel most welcome and safe is our highest priority," added Joanna Stankiewicz, Belmar Library's Public Services Manager.
Based on that input, the Belmar Library redesign focused on improved safety and security, inclusivity and flexibility. Everything about the Library encourages lifelong learning. We hope you find it welcoming, easy to navigate and a beautiful space.
Thanks to the flexibility of the design, the Library can evolve for future needs and accommodate the current safety guidelines due to COVID-19. While we added lots of computers, social distancing has required a reduced number with space between each station. All the bright, soft furniture is being stored. Come enjoy the resources available now, and know even more is coming when it is safe to do so!
There is also a new Assistive Technology Station with specific features that aid individuals who experience sensory or mobility impairments. The station has the ability to help patrons by scanning and reading aloud text materials almost instantly, as well as facilitate ASL translation.
With this redesign, Belmar Library joins the Family Place, opens a new window Libraries network as a center for early literacy and learning, family support and community connection. Due to current safety guidelines, toys and other features are currently unavailable. We look forward to share more about the Family Place in the coming months.
The new Teen Area is an exciting space with an emphasis on social and learning opportunities. Members of the Teen Advisory Board had an opportunity to play an active part in the design process.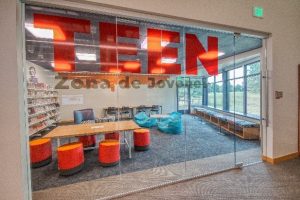 "Before, there wasn't any defined space for teenagers. We got to meet with the architect before they went into design and got to help design that space," said 16-year-old Sarah Hitchcock. "It was really incredible to have our voices heard and to have us help make a place designed for us. It really means a lot that Jeffco trusts us that we had the vision to be able to help with something as lasting and permanent as a library."
The Spanish collection has also been expanded for both kids and adults. The new layout supports different uses of the Library, with study rooms and the Teen Area near each other. The quieter Reading Room is on the other side of the building, and now features a gorgeous view of the park and the Rocky Mountains.
Know Before You Go
Please follow the new safety guidelines outlined in our new COVID-19 Code of Conduct, opens a new window, so you can safely browse materials and use computers. Everyone over the age of 10 needs to wear a face covering in order to enter the Library. Thank you in advance for your patience and understanding if there is a wait to enter the building during peak times. Curbside services, opens a new window are still available during all opening hours, as well as Sundays when the library building is closed.
We are so excited to welcome you back into the new and improved Belmar Library, and for you to see and experience the improvements we made based on your feedback. So come on in, browse our collections, use our resources and experience Belmar Library—better than ever!
Donate to Belmar Library

You can help support Library programs and resources that help people improve their lives by donating to Belmar Library. Funds received will go toward helping Belmar Library programs that support early literacy, education, workforce development, economic development, digital literacy and lifelong learning.

When you donate, opens a new window at least $100, your name will also become part of the Library, placed on the Belmar Library's donor sign and in Jefferson County Public Library's and Jefferson County Library Foundation's annual reports.

There are also naming opportunities, opens a new window remaining. To learn about those, please contact Jo Schantz, opens a new window at JCLF.